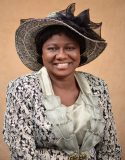 Rev Mrs. Olabisi Aboyeji
FWI President
FGC NHQ Church, Yaba
Rev. (Mrs.) Olabisi Temilola Aboyeji holds a Bachelor of Science (B.Sc) Degree in Microbiology from the University of Ilorin. She did her mandatory National Youth Service Corps (NYSC) at Military Hospital Sokoto in the Bacteriology Department.
She is an Associate of the Institute of Medical Laboratory Scientist (AIMLS), at Lagos University Teaching Hospital, Idi-Araba. Then, she worked for about a year as a Medical Laboratory Assistant. She went on to obtain her Bachelor of Theology (B.Th) from LIFE Theological Seminary, Ikorodu, Lagos. In 1993, her deep passion for God and commitment to His service made her commit to a full-time ministry with Foursquare Gospel Church, Nigeria. Since she made this bold decision, God has been using her to make a great impact in His kingdom assignments.
Between 1993 and 1999, she was Assisting Minister at Foursquare Gospel Church, Akoka where she took charge of Discipleship and Follow-Up Ministries. In 1999, she was moved to Foursquare Gospel Church, Ladi Lak where she also coordinated the Discipleship and Follow Up Department until 2001. Between 2001 and 2015, she was the Resident Pastor of the Foursquare Gospel Church, Olu Palace, Warri, Delta State. In this capacity, she assisted her husband, who was the Senior Pastor of the church. Her responsibilities included coordinating counselling and deliverance ministry and hosting high profile worship services in a church of about 1,000 worshippers.
She was also the Zonal Superintendent of Olu Palace Zone till July 2019 and effectively coordinated the activities of the five churches which made up the Olu Palace Zone. Rev. (Mrs.) Olabisi Aboyeji was the pioneer President of both Midwest Region and Warri District Pastors' Wives and Lady Ministers Fellowship. She is currently the National President of Pastors' Wives and Lady Ministers Fellowship of the Foursquare Gospel Church in Nigeria.
She is happily married to Rev. Sam Aboyeji who is the General Overseer of the Foursquare Gospel Church in Nigeria. Their marriage is blessed with four grown-up, godly children – Iyanuoluwa, Iyinoluwa, Ifeoluwa and Ireoluwa, as well as a granddaughter, Karis Oreofeoluwa.