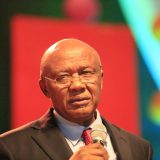 Dr Okey Onuzo
Associate Pastor
FGC NHQ Church, Yaba
Dr Okey Onuzo Received the Lord Jesus Christ as His Lord and Savior on Oct 28th, 1970 at a guest invitational service. On the night of June 28th, He had a vivid dream where a voice asked him to wake up and read John Chapter 6, verse 20. That scripture reads, "It is I, be not afraid." That was His first encounter with Jesus. It changed His life entirely and set Him on a course to know the one who has called Him.
In the summer of 1973 at an anointing service at the University of Ibadan in Nigeria, He received an apostolic calling with emphasis on the teaching and the prophetic ministries. He has watched over the years as the Holy Spirit has exposed and expanded these callings to touch several lives in different parts of the world.
He is an acknowledged conference and seminar speaker in different parts of the world. He continues to be available for the work of the ministry despite his busy clinical work.
He is also the Associate Pastor of the National Headquarters' Church of the Foursquare Gospel Church in Nigeria